I have to admit the past month laying in a comatose feeling has brought some good things out in me.  You do know, at one time, I was a huge sports fan. Okay, mainly NBA but still I knew the game inside out.  With that said, I decided to see what my dad loved so much about the Detroit Tigers.  I started watching the games and understood within a few minutes. Aghh..nothing is better than watch a "team".  The chemistry, the respect and just the love of the game.  Obviously, the Tigers didn't fair to well but in the meantime I had gotten to know the Red Sox a tad bit.  Ha.
This is kinda a funny post, huh? Denise, the new baseball fan? But seriously,  you have no idea how much time I spend just laying there. Laying there with a blank mind. It is crazy weird for me.  And I swear I am not a whimp but weekly chemo after 12 weeks straight catches up with you. But guess what, though the end of the road is getting a bit more exhausting, I've only got 4 treatments left! November 25 is the last day!  I can't wait to feel "normal" again but in truth, I needed this "cancer". It had changed me and it is a good thing.
So back to baseball. I decided after the Tigers lost I was gonna have to be a Red Sox fan for the World Series. I really like to know the players stories: where they grew up, do they have kids, and pretty much just "who" they are.  What an amazing group of guys. My gosh.
Let's start with Jon Lester who stole my heart (pictured above).  I love this quote from a CNN interview,
"It might be hard to believe, but as difficult as cancer was, in some ways it was good for me.

Don't get me wrong, I wouldn't wish it on anyone. Even the word "cancer" brings back the nausea and pain, the fear I felt and the heartbreak I saw in my parents' faces. The smells that fill hospitals and the constant tired feeling that comes with treatment are also permanently stuck in my memory.

But here's the thing: The disease changed the path of my life in some ways that have been really great."
Right? Great guy. And even better check out the foundation his wife, Farrah, and John set up for kids with cancer. Gosh, I just love good folks that give back.  Love it.  And the above pic is about 2yrs old, I believe he is on his 7th year cancer free.  You really need to google his story, it's a good one. He puts a whole new light on why he wouldn't trade having cancer. It changes your life.
Sorry this post is getting long, but I really wanted to share about David Ross. I just love this guy.  Ya, I don't know him, but he seems so calm, cool and collect and at the same time so in "awe of the moment".  I just read this little ditty about him,
"The signature moment, I think that's what everybody lives for," Ross said, his smile partly concealed by his Civil War general-type beard. "I'm just in awe of being in the World Series, really. That's as signature as it gets.

"I'm on the podium, talking to you guys with the whole World Series (backdrop) behind me, right? That's when you see people on TV. I'm stoked."
Ha, seriously we as viewers and fans are so mesmerized by movie starts and pro-sports players we totally forget they are just like us.  I cracked up when I listened to the above interview. David Ross was totally plain old giddy to be on that podium just like a little boy would be. And that is awesome.
Okay, and my last guys has to be Dustin Pedroia. This guy, I just love him. So when I googled and read a zillion stories, the one I loved the most was the time he was recalling when his high school baseball coach kept comparing him to another (possibly better) player.
"You know what?" he says. "It ticked me off. He's my coach, first of all. If you want [Patrick] on your team, go coach his high school. You're either on my side or you're out of here. You're either two feet in or two feet out.

"I remember it," Pedroia goes on. "I remember everything. I remember thinking to myself, 'There's no way that guy's better than me.' But that's what pushes me. At that time, was that guy better than me? Yeah, probably. But I wasn't going to let myself think that."
It so reminds me of the grudges we still hold against that girl who stole our first boyfriend, or the boss who said "you couldn't do it".   Oh, the little things that stick with you. The little things that make you tick and become a better person.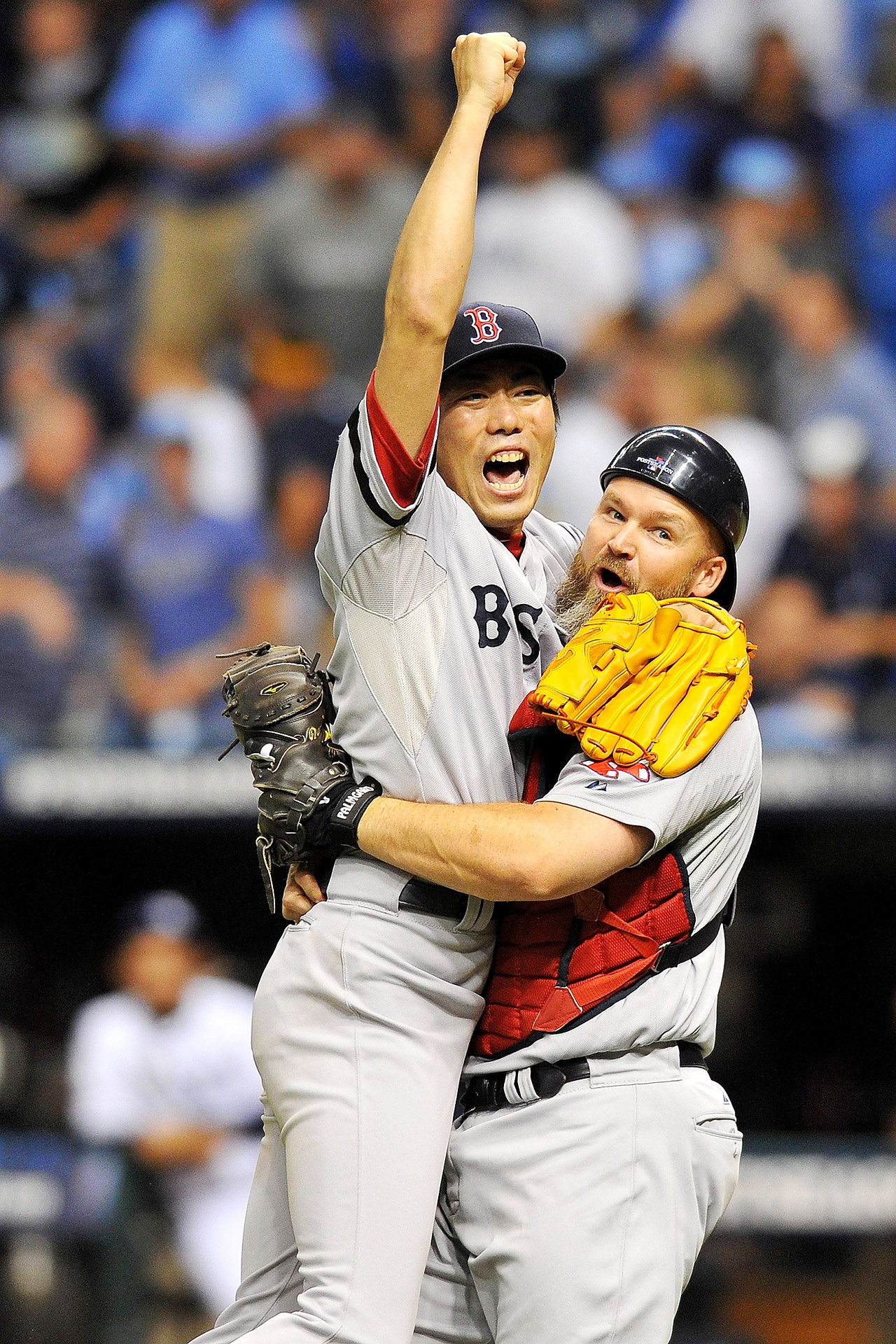 Yup, long post. But I gotta end with one more, Koji Uehara, the relief pitcher from Japan. I don;t think he speaks much English but he is great to watch. Talk about a little giddy by jumping up and down with excitement. He has this innocence to him, or at least I view it that way. Then when I read the below translated blog entry, I just fell in love a bit more.
"I'm always trying to pitch my best, but why do people keep bringing up the past?'' he wrote. "An acquaintance told me that some stupid magazine has been writing stuff about me. I'm not saying for them to root for me, but it would be nice if they don't write negative things about people doing their best.''
Alrighty, back to the Dr to get my daily injection. Then it's time for the World Series. But after that, get ready to nominate your most deserving Teachers and Nurses for our Thanksgiving Spread the Love! And be sure to check out these boys tonite!